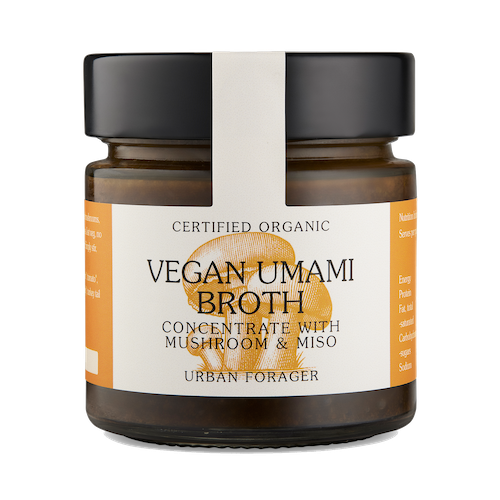 Farm to Fork
We're sharing the ethical practices that this farmer or supplier focuses on.
Urban Forager Certified Organic Vegan Umami Broth Concentrate 250g
Original price
$19.95
-
Original price
$19.95
Sip between meals or during juice cleanses to boost immunity, heal your gut, fight fatigue and re-energise. No nasty chemical or additives. A highly concentrated blend of vegetables, miso and assorted mushrooms including lion's mane, turkey tail, shiitake and button varieties. Like all Urban Forager products, this broth is pure and simple: Just vegetables, herbs and spices, with no nasty chemicals or additives. Use an alternative to coffee, to sip between meals or supplement a juice cleanse, to re-energise and restores. 12 serves per pack.
Ingredients: Vegetables (Mushrooms*, celery*, carrot*, onion*, tomato*, parsley, garlic*) 89%*; salt, olive oil*, miso, spices*, herbs; lion's mane extract; turkey tail extract; kelp.
*Certified Organic
Storage: Keep refrigerated once opened for up to one year.