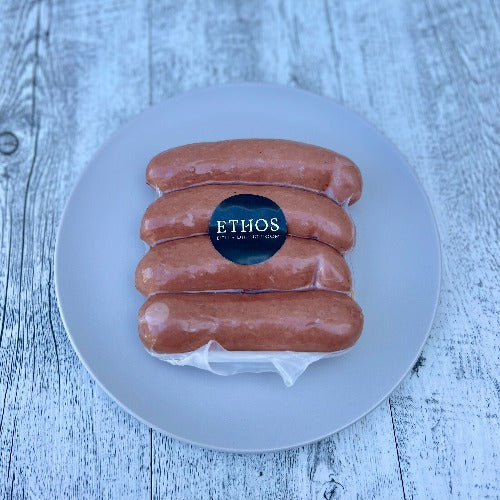 Farm to Fork
We're sharing the ethical practices that this farmer or supplier focuses on.
Fat Coney Island Sausage (4 pack)
Save

20

%
Save

20

%
Original price
WAS: $18.50
Original price
$18.50
-
Original price
$18.50
The perfect sausage for your hot dog. Traditionally a beef sausage Ethos Fat Coney Island is a perfect mix of pork and beef which contributes to it juicy succulent flavour. The sausage can be served in your favourite hot dog or eaten on it's own served with sauerkraut or salad. 


These sausages are made using Dirty Clean Food Beef and Pork. 
About the Coney Island Sausage
Coney
Island
is a neighborhood in Brooklyn, New York, that's famous for its amusement parks, beaches, and most importantly to this discussion, its food. While iconic for its Nathan's Famous hot dog stand, the term "
Coney
Island
hot dog" is largely known and loved beyond the boundaries of New York, particularly in the Midwest of America. Polish immigrant Nathan Handwerker founded his fast-food stand in 1916 in
Coney
Island
. Prior to that, Handwerker worked for Feltman's German Gardens, a beer garden that also served food, including hot dogs. Charles Feltman, the owner, is often credited with the invention of the hot dog as we know it. Handwerker left Feltman's and opened his own place offering simpler, cheaper hot dogs, charging just 5 cents a pop as compared to Feltman's 10-cent dogs. This turned Nathan's stand into an instant hit, and it still operates in its original location to this day, hosting an internationally renowned hot dog eating contest every July 4th. 
About Ethos
Nestled in the heart of East Fremantle, at 88 George Street, you'll find a bustling, vibrant establishment, Ethos Deli, that is meticulously committed to the art of charcuterie. But Ethos Deli's story didn't start here. Rather, it began out of necessity and a fiery passion for sustainable culinary practice within the confines of another local favourite, Young George. When head chef and director Melissa Palinkas, with her background steeped in East European culinary tradition and her profound love for New York's delis, first ventured into the world of charcuterie, it was on a smaller scale. It was initiated in a corner of the Young George restaurant kitchen, where chefs toiled away respecting and incorporating every part of the animal into the delicacies they served.
Their commitment to whole-animal butchery and sustainable practices set them apart in the industry, earning them an enthusiastic and rapidly growing clientele base. However, as the demand continued to rise, the corner of Young George's kitchen couldn't keep pace. Consequently, Melissa and her team took a significant leap, and Ethos Deli was born. The name 'Ethos' was chosen to embody the very essence of their beliefs – a Greek term conveying the spirit of culture, community and ethical practices binding people together. It represents an unwavering commitment to promoting whole-animal butchery, reinforcing the respect for the animal by ensuring minimal waste, and reinventing traditional practices through sustainable methods. Thus, Ethos Deli is more than just a deli; it's a symbol of integrity within an ever-changing industry landscape. In its new home at 88 George Street, Ethos became more than a business. It evolved into a cross-cultural experience that tied Melissa's East European lineage and her fascination with the delis of New York. The foundations laid by East European immigrants in the culinary world of New York have largely influenced the delicacies prepared and served at Ethos Deli. Whether through its house-made sausages, unique prosciutto, or the array of cured meats, there's an unmistakable echo of these worlds, a heritage lovingly translated and adjusted to the tastes and preferences of the modern day. Ethos Deli has continued to grow while respecting its roots, creating a unique blend of East European taste, New York style, and rigorous ethical ethos. Like a true love letter to the history of charcuterie, it blends the past with the future elegantly, making every visit a special culinary journey.
Pork, Beef, Pork skin, Salt cure, Salt, Pepper, Paprika and Nutmeg