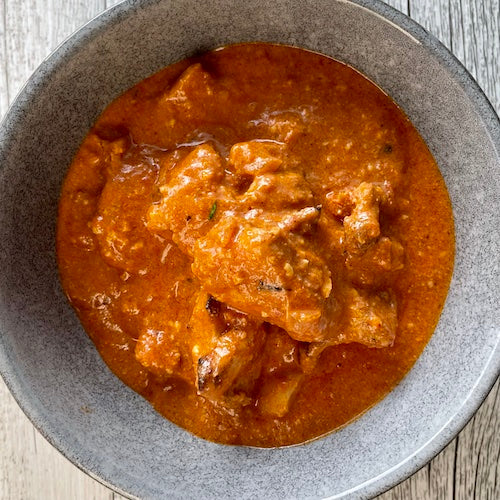 Original price
$16.00
-
Original price
$16.00
Check out our Butter Chicken from Dirty Clean Food! Get ready to tantalize your taste buds with this delicious and tender pasture raised chicken, slow-cooked in a myriad of spices that will be sure to impress even the most discerning palates.

Our very own in-house professional chefs have taken on the challenge of creating their version of the home favorite - butter chicken! We've carefully selected our pasture-raised chicken marylands and simmered them in a melody of herbs and spices, ensuring every bite is bursting with flavour. And thanks to our slow cooking method, the fat breaks down beautifully, further enhancing the rich taste and tenderness of the meat.

Not only does this mouthwatering dish satisfy your cravings for something truly indulgent, but it also aligns perfectly with your environmentally conscious lifestyle. At Dirty Clean Food, we are committed to sustainable farming practices that prioritize animal welfare and environmental stewardship. So you can savour each delectable morsel knowing that it comes from ethically raised chickens.

Indulge yourself guilt-free by serving this delightful dinner alongside some steamed basmati rice for a complete meal experience. Don't miss out on experiencing culinary excellence while making choices that support both your health and our planet's well-being!

Allergens: Contains tree nuts.

Chicken Maryland (40%), cream, onion, tomatoes, chicken stock, tomato paste, cashew nuts, butter, garlic, salt, fresh coriander, chilli, ginger, parsley, coconut sugar, garam massala, coriander, ginger, fenugreek
Thaw overnight in the fridge when ready to eat. Heat up in saucepan over low heat or in oven for 25 minutes at 160C.
This product is snap frozen for your convenience.
Pack weight is approximate. We're proudly working with real meat, and do our best to get exactly to the declared weight, but there may be some variation.