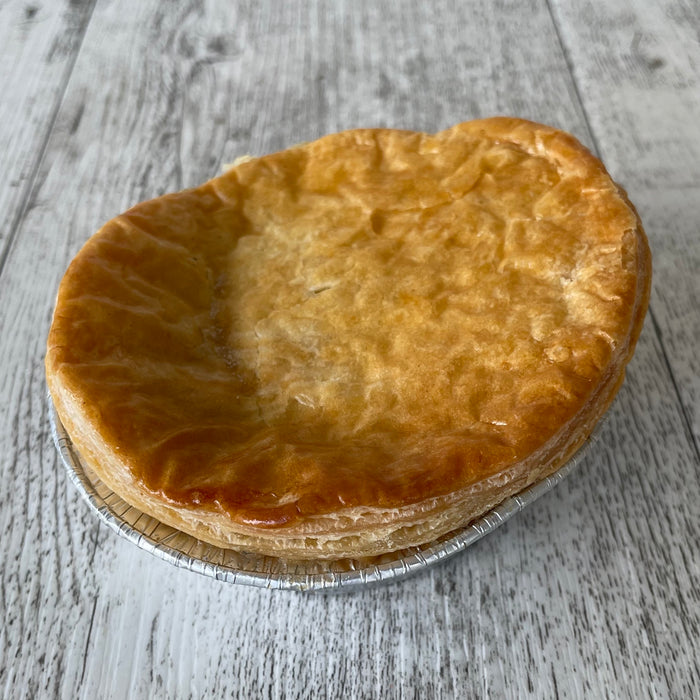 Beef Steak, Red Wine and Rosemary Single Serve Pie
Save

0

%
Save %
Original price
$0.00
-
Original price
$0.00
Introducing the Beef Steak, Red Wine and Rosemary Single Serve Pie from Dirty Clean Food! This delectable treat is perfect for those who crave a delicious meal while being mindful of the environment. Our pie is made with our regenerative 100% grass-fed and finished beef, ensuring that you are not only enjoying a mouthwatering dish but also supporting sustainable farming practices.

Indulge in the rich flavors of slow-cooked beef infused with red wine and rosemary, all wrapped in Empire Pastry's buttery puff pastry. With just a quick reheating in your oven, this single-serve pie will be ready to satisfy your cravings.

To ensure perfection every time, follow these simple heating instructions: preheat your conventional oven to 160°C, remove the packaging (leaving only the foil tray), and if defrosted cook for approximately 25 minutes or if frozen cook for approximately 40 minutes.

You can feel good about indulging in this savory delight as it is made right here in Australia using 98% Australian ingredients. Plus, it contains no artificial additives or preservatives – just pure goodness!

Don't miss out on experiencing this culinary masterpiece that combines taste with sustainability. Treat yourself to our Beef Steak, Red Wine and Rosemary Single Serve Pie today!
Contains: milk, wheat, egg
Filling: (51%) [grass fed beef chuck steak (50%), water, beef stock, onion, carrot, red wine, celery, olive oil, rosemary (1%), butter (milk), wheat flour, salt, pepper], Pastry: Puff pastry [49% (wheat flour, butter (milk), water, milk powder, baking powder, salt, apple cider vinegar, egg yolk)]
Heating instructions: Preheat fan forced oven to 160°C Remove packaging, leaving only the foil tray Cook in oven for until heated through
Absolutely delicious on it's own as a snack, or perhaps serve with some of our Prince of Orange Potatoes (mashed or roasted - definitely our preferred options!) and a selection of fresh veggies.
This product is frozen for your storage convenience. Simply defrost before reheating and enjoying!