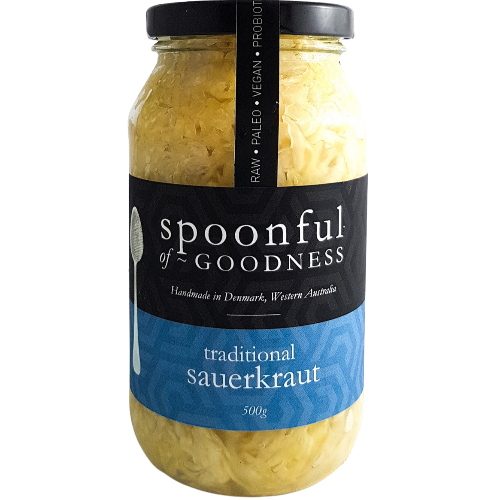 Farm to Fork
We're sharing the ethical practices that this farmer or supplier focuses on.
Traditional Sauerkraut 500g
Original price
$13.95
-
Original price
$13.95
The simple and classic combination of white cabbage and caraway seeds is hard to beat! It is perhaps what most people think of when they think of sauerkraut. Our version is fresh, sour, raw and crunchy with that beautiful, slightly aniseed and herby flavour of caraway.
Madi and Sumit created Spoonful of Goodness out of a love of good food, an interest in good health, and a fascination with the transformative power of fermentation. Made in Denmark, they source their produce direct from local farmers whenever possible. We use organic spices, organic nuts and seeds (or insecticide free in the case of almonds) and WA lake salt in all products. Their aim is to make food that is GOOD for your TASTE BUDS, GOOD for your GUT and GOOD for the PLANET.
Cabbage, WA lake salt, caraway seeds
Toss it through a salad, liven up a toastie, add it to a grazing platter or a Buddha bowl, serve it as a condiment with meals (it's an excellent digestive aid for protein and fat rich meals) or eat it straight out of the jar – whatever you do, enjoy!