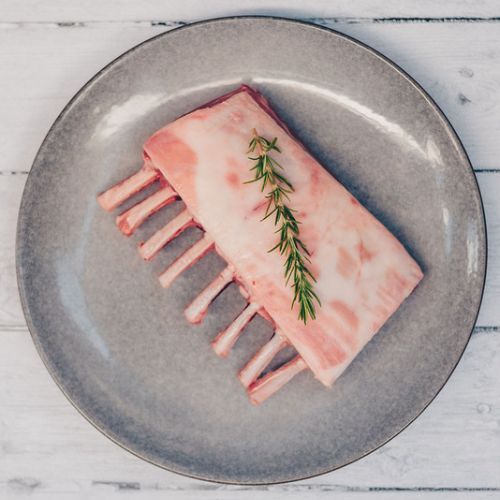 Frenched Lamb Rack - Small Single Rack (525g-749g)
Save

0

%
Save %
Original price
$26.50
-
Original price
$26.50
Introducing our Frenched Lamb Rack - Small Single Rack, the epitome of culinary excellence in a convenient package!
This small rack of lamb is pure deliciousness, offering a world of culinary possibilities. Whether you choose to roast the entire rack to perfection or separate it into succulent cutlets, the Lamb Rack is a luxurious cut that promises an unforgettable dining experience.
The best part? Our Lamb Rack is frenched, sparing you the hassle and ensuring a restaurant-style presentation every time. Frenched, you ask? It's not about flavor or texture, but it's all about aesthetics. This expert trimming simply makes the bones look neater on your plate, elevating your dining experience to a whole new level.
Don't miss out on the opportunity to bring a touch of elegance to your dining table. Grab our Small Lamb Rack today and treat yourself to a delicious, restaurant-quality meal in the comfort of your own home. Try it now and make every dinner an extraordinary experience!
Serve it alongside classic Prince of Orange Potatoes and a medley of fresh, seasonal vegetables like beans, Brussels sprouts, or roasted cauliflower. Alternatively, transport your taste buds on an exotic journey with a Middle Eastern-inspired lamb rack, delicately spiced and adorned with citrus zest. Accompany this masterpiece with fluffy couscous and an abundance of fresh herbs. Remember, whether you choose tradition or adventure, let your lamb rack rest before serving to ensure a juicy and tender delight that will leave your guests clamoring for more. Try it now and turn every meal into a culinary masterpiece!
This product is snap frozen for your convenience. Thaw overnight in the fridge when ready to eat.
Pack weight is approximate. We're proudly working with real meat, and do our best to get exactly to the declared weight, but there may be some variation.