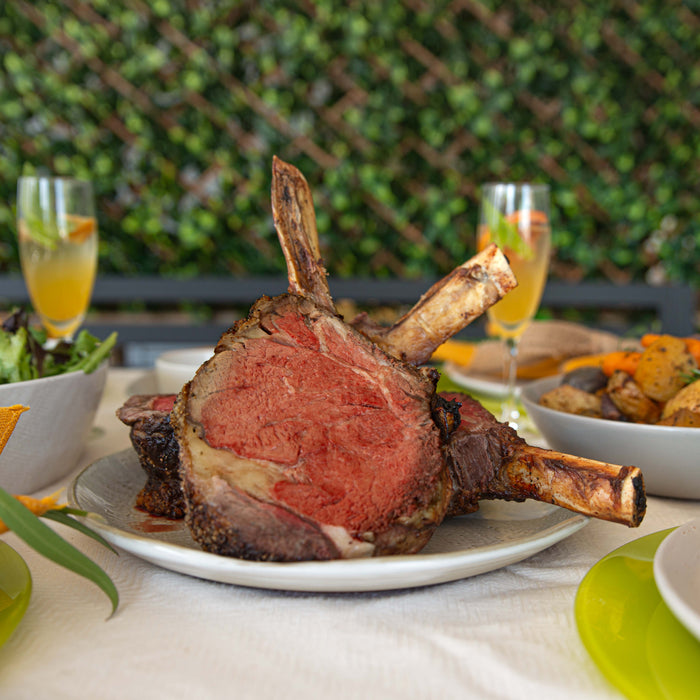 Fresh Christmas Rib Eye Roast - Approx 2kg (3 Bone)
Save

0

%
Save %
Original price
$99.95
-
Original price
$99.95
Elevate your Christmas feast with our Fresh Rib Eye Roast. This magnificent frenched cut, sourced from grass-fed and finished beef, is a rare gem that's sure to steal the spotlight at your Christmas table.
Weighing in at a hefty 2kg, this exclusive roast is not just about size; it's all about unrivalled flavour and tenderness. With its rich marbling and impeccable quality, it's a true testament to the art of butchery.
Prepare it with ease by seasoning and roasting low and slow in the oven, filling your home with irresistible aromas. For a delightful twist, transform it into thick, juicy ribeye steaks.
Please take note that our Fresh Rib Eye Roast arrives fresh, not frozen. We highly recommend being at home to receive this culinary masterpiece.
This Christmas, seize the chance to savour excellence. Order your Fresh Rib Eye Roast now and make your festive celebration truly extraordinary!
These items are for pre order only. When finalising your order you can select your delivery day from the 18th December onwards.
Please note that this product will come fresh and not frozen. We highly recommend you to be at home to receive it.
 Allergens: None.
Grass Fed and Finished Beef (100%)
Remove Roast from refrigerator and set a room temp for 45 minutes, preheat oven to 180*C. Heavily season roast with Salt and Pepper, Sear on all sides in a hard base pan (Cast-Iron preferred) on medium-high heat. Place roast on a wire rack into the oven and roast at 180*C for roughly 2 hours until internal temperature reads 49*C for medium rare or 55*C for medium, rest for at least 20 minutes. We highly recommend using a temperature probe for this one.
Keep product refrigerated below 5*C