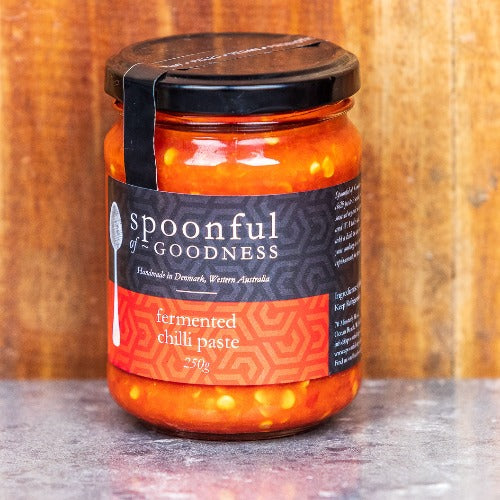 Farm to Fork
We're sharing the ethical practices that this farmer or supplier focuses on.
Fermented Chilli Paste 250g
Original price
$10.95
-
Original price
$10.95
Who knew that just two ingredients - chillies and salt - could come together to make something so deliciously addictive. A great way to add some spice to your meals, with
probiotics and enzymes for good measure.
Madi and Sumit created Spoonful of Goodness out of a love of good food, an interest in good health, and a fascination with the transformative power of fermentation. Made in Denmark, they source their produce direct from local farmers whenever possible. We use organic spices, organic nuts and seeds (or insecticide free in the case of almonds) and WA lake salt in all products. Their aim is to make food that is GOOD for your TASTE BUDS, GOOD for your GUT and GOOD for the PLANET.