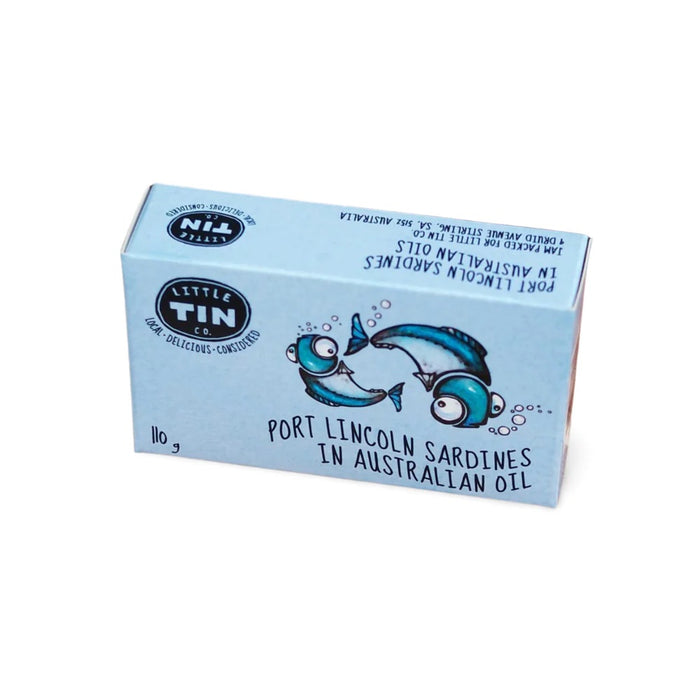 Farm to Fork
We're sharing the ethical practices that this farmer or supplier focuses on.
Sardines in Oil 110g
Original price
$15.95
-
Original price
$15.95
Ever had Australian Sardines in a can before? Firstly, you'll notice they're artisanal blue, not industrial grey. Secondly, they're expertly filleted and lastly, how 'bout THAT FLAVOUR! These sardines from Little Tin Co are protein packed and delicious  - Little wonder when they're sourced from the expertly managed, highly abundant and sustainable, South Australian Sardine Fishery.
Perfect on top of Mary Street Bakery Sourdough or on your charcuterie board.
Little Tin Co source and can all our seafood in South Australia. Locally sourced seafood not only helps support their local economy, but it also ensures their supply chain is transparent, giving them confidence that we are producing delicious, sustainable and environmentally responsible seafood. When developing products they carefully consider each species chosen, the location it is sourced and harvest methods used to ensure ethical sourcing practices.
Made in Australia from 100% Australian Ingredients
PT LINCOLN SARDINE FILLETS Sardinops sagax (FISH) (72%), BLENDED EXTRA VIRGIN OLIVE OIL (28%) (CANOLA OIL, EXTRA VIRGIN OLIVE OIL)