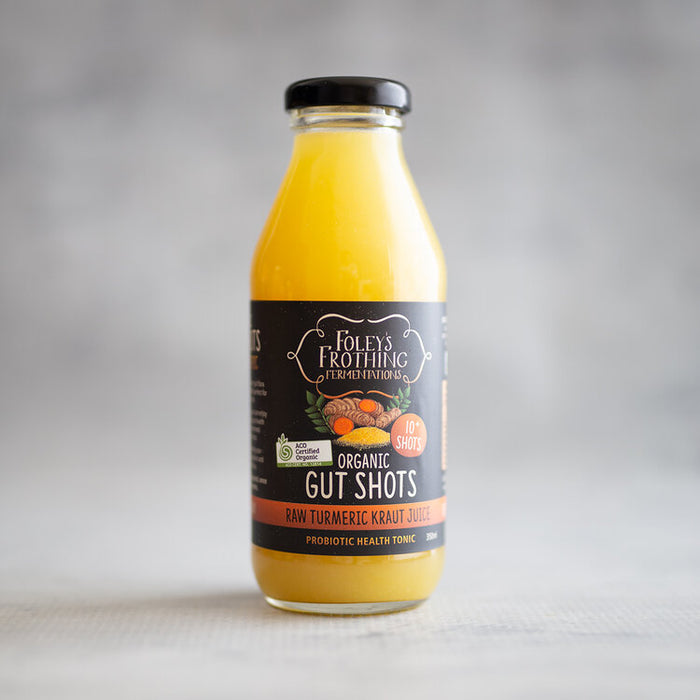 Farm to Fork
We're sharing the ethical practices that this farmer or supplier focuses on.
Foley's Frothing Fermentations- Organic Gut Shots - Raw Tumeric Kraut Juice 350ml
Save

0

%
Save %
Original price
$7.95
-
Original price
$7.95
In the search for more options that are healthy for both you and the planet, we are happy to expand our offering of Foley's Frothing Fermentations! We would like to introduce Raw Organic Gut Shots that are Certified Organic, wild fermented, probiotic and are perfect for those who are vegan, gluten free or are practicing the paleo diet. If you are too stretched for time or are looking for something to load up on nutrients quickly, this is the perfect solution.
Gut shots are created by the juice produced by the cabbage during fermentation. These contain all the vitamins and minerals of their Sauerkraut range.
Enriched with tumeric, a spice that is known for its active ingredient curcumin - an anti-inflammatory and one of Earth's richest antioxidants. Just like its colour, the surprise burst of flavour from the cumin, coriander and black pepper helps to add a bright addition to any meal.
Local cabbage, tumeric, cumin seeds, coriander seeds, black pepper, curry leaves, West Australian salt, filtered water.
30 ml per shot. Total 10 shots.
Foley's Frothing Fermentations