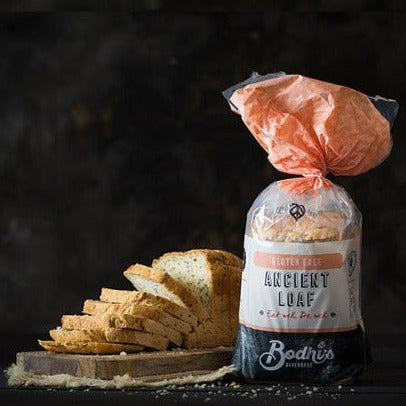 Farm to Fork
We're sharing the ethical practices that this farmer or supplier focuses on.
Bodhi's Bakehouse Gluten Free Ancient Loaf
Original price
$7.90
-
Original price
$7.90
This loaf is a great tasting gluten free option and preservative free. 
Specifically designed for people who have allergies to wheat, wheat gluten and yeast. It is a loaf which tastes great toasted or can be used any time of the day, breakfast, lunch or dinner. Unlike many other gluten free breads on the market, this loaf has no "strange" aftertaste. 
Vegan friendly. 
Bodhi's Bakehouse, is a West Australian bakery, with a strong focus on ultra-healthy, traditionally hand-crafted baked goods. They have been baking since 1981. 
Wholegrain chickpea flour, Maize flour, Tapioca, Rice flour, Sunflower oil (GOM free), Sunflower seed, Linseed & Meal, Red sorghum flour, Quinoa, Chia, Vegetable Gums (Cellulose, Xanthan, Guar) Rising agent (500, 575), Iodised Salt